"There will never be another Rafa. I am Carlos." – Carlos Alcaraz
When their 18th birthday approaches, young people dream. What will they do in the future, what will officially being an adult feel like, will their dreams come true, and how soon?
At 18 you have your whole life ahead of you, but at the same time you live with urgency. You can't wait. You want it all. And you want it now!
Some version of that can be said of Carlos Alcaraz, the Spaniard who experienced an exceptional year 2021. He reached his first Grand Slam quarter-final at the US Open, won the ATP Next Gen Finals, earned a place among the top 40 players in the world and, on the very day of his birthday, May 5th, played for the first time against his compatriot Rafael Nadal, a legend of the sport, in the most important tournament in his country, the Madrid ATP Masters.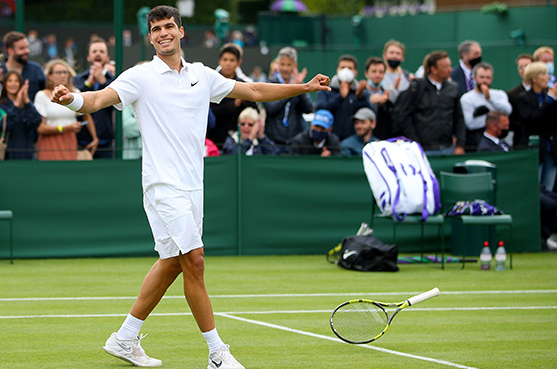 Anything else?
Yes, Alcaraz wants more. Where does he see himself in 10 years? "I hope to be fighting to win many Grand Slams and fighting to be number one. To continue playing with the same enthusiasm as when I was 18 years old."
A short sentence that says a lot. Let's see.
"To win a lot of Grand Slams." Remind you of anyone?
"Strive to be number one." Sound familiar?
"To keep playing with the same enthusiasm as when I was 18." Do you know anyone like that?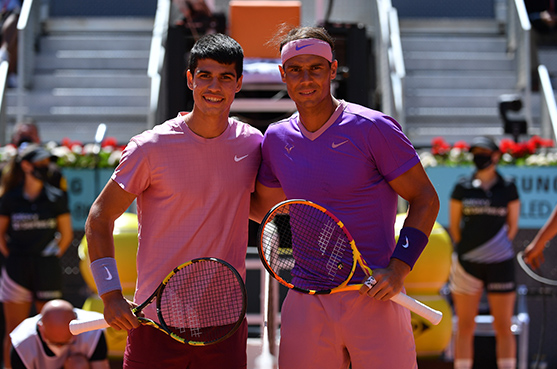 The next Rafa?
In a world – the world of sport – where the hunger for new figures is inexhaustible, Alcaraz is facing something almost unprecedented: everyone in Spain has their eyes on him, and already they're comparing him to a legend – to Rafael Nadal.
The small detail is that Nadal is still playing and winning. Nadal is still immense, present, and very real.
Alcaraz encountered Nadal at the Manolo Santana Central Court in Madrid. He lost 6-1 6-2, but won a lot of credit in front of the great public of his country, to the astonishment of some.
So is being compared to Nadal pressure or motivation? "Neither," says Alcaraz. "I know that there will never be another like Rafa in history. I am Carlos."
"I am Carlos" sums up the conviction of a man who has his own stamp. His forehand is blinding, with that excessive power that is the hallmark of the new generation, but with flexibility and precision. His backhand, especially when the ball is passing him, brings back memories of that same stroke in Nadal, even though one is right-handed and the other left-handed.
He knows how to throw in drop shots with mastery, he has a secret weapon in the lob, and he is strong and decisive on the court.
It's worth listening to what Nadal says. "I really believe Carlos is going to be able to progress quickly. He is a complete player. I mean, he's brave, he's able to go to the net very often, great forehand, great backhand."
And then the 13-time Roland Garros champion deploys the salad theory to explain even better who Carlos Alcaraz is and who Carlos Alcaraz can become.
A recipe for success
"When you make a salad and you are putting ingredients inside the salad, he has plenty of ingredients to become a great player. That's the main thing."
Alcaraz recalls signing his first contract with Babolat in 2013, when he was just 10 years old. He played for nine years with the same model, the Pure Aero, and recently switched to the precision focused Pure Aero VS. "I wanted a little more control," he says, "and I saw that this racquet had one more string and I wanted to try it. I liked it and decided to change. I like it a lot because the ball comes off the strings fast and at the same time I have confidence and control."
Fast balls with confidence and control. A good description of Alcaraz's tennis. The man who will never forget the month of his 18th birthday. A man who is better not to have on the other side of the net.
Asked what his favourite song is, he replies: "The Eye of the Tiger."
Enough said.